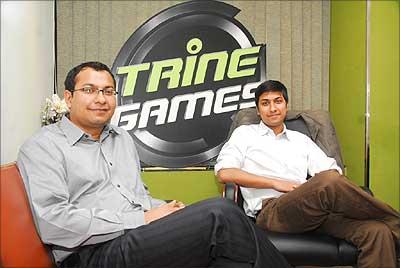 Can you run a multi-crore business venture by just playing games? Yes, say India's gaming prodigies -- Somil Gupta and Sangam Gupta. The brothers eat games, drink games, sleep games and are set to mint millions from games!
Their company -- Trine Entertainment Ltd -- deals with high-end game development, offering a variety of 3D interactive entertainment for PCs, consoles and mobile phones. The games have unique plots based on Indian landscapes and characters from mythology.
If some of the games have real life streets of Mumbai as their landscape, some other games are based on the myths of Indian gods like Krishna, Shiva and Hanuman. According to Somil, the goal of the game is to save the future of India from all evil, including Ravan. "This, is localisation at its best, by incorporating characters and stories that we've all grown to love and cherish," says 30-year-old Somil Gupta, managing director, Trine Entertainment.
"Our first game -- 'Streets of Mumbai' -- is scheduled to be launched in by May end or early June. Racing games are one of the most popular genres for video games in India, so we decided on to develop 'Streets of Mumbai,' which is all about car racing in Mumbai," explains Somil.
Sangam has been developing his own game engine technology for past three years which is currently powering the games at Trine Game Studios.
He, along with younger brother Sangam, ventured out to do what they loved most, play around with games and more games and tap the booming market not just in India, but also in the United States and the United Kingdom.
"The potential for gaming is definitely skyrocketing," says Somil, as he shares his exciting journey of how he and his brother turned a big dream into reality.